W'kayo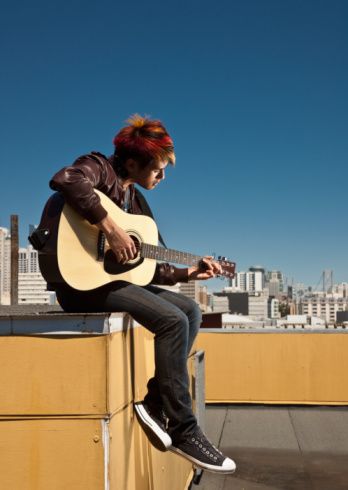 Character type: Weyrling
Age: 20
Gender: Male
Sexual Preference: Bisexual
Appearance
Its obvious from the first time you meet him that W'kayo is truly a creative and artistic soul. In any way possible he likes to stand out and be noticed and he's constantly pushing the boundaries of acceptable Pernese fashion and attire. If this means he's got to paint his own hair to be different, well then he'll have a different colour every time he's had a bath to wash the old out. Sometimes he'll wear ladies' trousers because the fit makes his bum look nicer and he's not shy about trying out their makeup, just to see what it looks like. He can be flamboyant one day and then overly macho the next, all depending on his mood. One thing for sure is he's very comfortable in his own skin. (So much that on many days he most likes to walk around as naked as possible.)
There's a very Istan look to W'kayo; no one could ever mistake for anything but a native-born Islander. His straight brown hair is kept cropped shorter on the sides and back with the top left a little longer and his fringe swept gracefully over to one side. He's a handsome man with a subtle hint of exotic to him with his almond-shaped eyes and darker colouring. Well that and he adores the local jewelry made from shells and bright beads. At 5'8 he's not tall, but he does have decently broad shoulders and a nice trim waist.
Really, he can be a confusing fellow to try and figure out… some days he's a clear candidate to be biggest 'greenie' of the Weyr, while others he's a perfect image of what a strapping bronzerider would be. He likes to keep people on their toes, apparently.
The fire at his hold that he pulled himself out of left some nasty burning down the right side of his body and over the majority of his right leg. They're ugly things, but he's perfectly fine about showing them off.
Personality
For the first few turns at the Weyr W'kayo had found himself almost too coddled, too worried about and maybe this is what pushed him to work through the things he'd seen as much as anything. If anything, the man wears his scars and past trauma proudly, almost with an arrogance. Have you not *heard* about what he survived through? He'll sniff his nose at anyone who decides they want to complain or mope around, as if they don't even have a right. What's being dumped by your girlfriend *anything* compared to watching your father murdered right in front of you? Oh, you broke your leg? Try having it nearly burned off? Do you even *know* what that might feel like? And don't even get him started on his mother… To him nobody really has a right to complain until they can one-up his tragic story. He's scornful of others in their misery and comes off as horribly insensitive in telling them to suck it up. Part of him might be, but really, this is all the advice he can offer and really the only thing that he can see as working. If you're upset, just… deal with it, because what else can you do? Wallowing in any sort of way is a waste of time and energy and besides, nobody wants to hear it. At least, he doesn't. Maybe he has his own moments where he'll cry into his pillow at night when he thinks about his lost family, but he has the decency to keep it quiet rather than subjecting anyone to it.
This is a decently well adjusted young man, all things considered. He never acquired a blood-thirsty taste for vengeance on the folk who'd ruined his old life and he doesn't wallow in self-pity over it. He's not some tragic little hero that will bat his sad eyes at you and beg for cuddles and love because of it all. Nor is he some bitter, untrusting asshole that wishes painful death on everyone. If anything he's used this to grow and become a stronger person. After all, the challenges in life are what toughen you up, right? There are hints that his past left a permanent mark on him, though. He has severe anxiety in the dark, or in areas where he can't see around him well. He's not a huge fan of fire either. It takes him a while to become physically comfortable with people and he really has no desire for that sort of relationship. (Very secretly maybe he would if he found someone he was truly in love with first. This seems like a total pansy thing to admit though, so he keeps this to himself.)
W'kayo is a guy that needs to be constantly working at *something*. Idleness does not sit well on him and no one could ever complain that he's lazy. Now that he's impressed there will be endless lessons for him to tackle and likely he'll be one of the first to complete anything assigned to the class simply because he gets at it right away and usually won't stop until he's finished. Free time is generally devoted to harpering, working to master his guitar and keep his singing voice strong. Though he's not as physical as some, he's even got time to devote to fitness somewhere in there. Some might think he's somehow cheating at life because he accomplishes so much, but its simply excellent time management and just *doing* whatever he's working on without allowing himself to be distracted. This need to always be working does come from having to constantly keep his mind occupied when he was younger, as a way to keep from having to think about what had happened.
Unfortunately for his peers, W'kayo has a hard time seeing idleness and laziness in others as well. Part of him is a bully for the sake of being a bully and keeping up with H'jorek, but he really *likes* seeing people do well (or at least, do their fair share), so most of the way he acts comes from trying to push them to be better (or not make them all look like lazy slobs). Ceretith was so perfectly made for him in this way: between the two of them their classmates may actually start looking forward to H'jorek's straight-forward bullying. The only way to grow and prosper is to be challenged; the only way to get over your fears is to face them head on and W'kayo and Ceretith will be there full force to help with this.
History
Birth Place: Small seahold on Ista Island. 09.22
Its really not often that there is senseless crime that results in tragedy that no one ever saw coming, but once in a while these things do seem to happen. Up until the age of ten Wakayo had a cheerful, somewhat easy life of a middle class holder's child. He wasn't overly spoiled, but neither did he have to work overly hard for what he got. Life may have gone a bit downhill after that. After their family holding was attacked and the holdless who did it were apprehend were asked why they sacked the place and horribly killed a young boy's family and their response was simply "it was there". They weren't targeted for any reason, they just happened to be in the area and the place looked like it had a little bit of something they wanted. It was just one of those shitty things that happens, as uncommon as it might be, though Wakayo was lucky enough to be brought in by a dragonrider after the smoke from his burning home was spotted from the air.
Predictably, Wakayo had a mountainload of issues to work through as he got older, but the nurturing environment of the Weyr and having a new best friend in the form of a slightly older boy who took him in and looked after him made a world of difference. It was what made him grow into a functioning young man rather than a messed up basket-case. He wasn't quite in a place to join candidacy right away, rather he spent time with the local harpers until he was sixteen. He could have joined a little sooner perhaps, but he found he loved music and art enough to put it off for a couple of turns.
He never actually expected to impress, honestly. It had been enough of a surprise that he'd been searched once he was old enough. But then a lankly little brown found him and nothing before that even mattered. Ceretith is such a perfect extension of himself and they are so thoroughly and wonderfully matched with each other that W'kayo doesn't even remember how to feel unhappy. Granted, this might fade after the initial honeymoon stage of impression has passed, but anything prior to the day Ceretith hatched was merely leading up to and preparing him for this moment. He worked through his issues and *earned* it, and now the pair of them are going to push everyone around them to be just as awesome.
Relationships
Family
Family: Dead. So, so dead
Bestest Bro: H'jorek
T'gryn's Dragon: Brown Ceretith
Dragon Name: Ceretith
Colour: Brown
Age:
Weyr of Origin: Ista
Weyrling Class:
Wing: SunRunners
Appearance
Some say that there are many kinds of beauty, and certainly Ceretith is a rather good looking dragon, in a strange, off beat sort of way. Really he should be too thin, too angular, his face too sharp to be any kind of appealing at all. And yet he is. His face is rather sculptured, haughty, and there's a cold aloofness to it that, while quite attractive, might scare some off. His hide is tumultuous, with every possible shade of brown imaginable splattered across his hide with no rhyme or reason to it at all. The shapes the colours make are all different too, circle, blob, spatter, sharp spikes and there is no pattern. None at all.
He's also an incredibly out of balance little dragon, he'll grow into a long creature but when he is little his wings will be far too large and his tail far too long, and his legs far too spindly. He'll crash into everything and everyone although never seems to be the one who comes to harm.
Personality
Ceretith hates order, hates routine, hates predictability and he most certainly hates people trying to impose such restrictions upon him. He believes that order makes people feel safe and secure, and therefore lazy and unmotivated. Nothing brings out the best in people like a challenge, strife, struggle or adversity. And so Ceretith takes it upon himself to cause as many problems for people as he can. This ranges from small misdemeanours like hiding someone's straps to actually damaging straps to give the other a scare. He never wants anyone to get hurt of course, but he does want them to wake up out of complacency. Different people get different levels of Ceretith's form of schooling; friends get little things to keep them on their toes, enemies much bigger things and his rider is no exception.
The trouble is that most of the time the things are hard to really pin on him, he's not responsible for how people react to his meddlings after all, they are responsible for their own actions, he's purely the catalyst, the instigator, and the first one not around when the real shit goes down. He's just an expert at judging who will react badly, and pressing those buttons from a distance.
Brutal honesty, or at least the appearance of honesty, will be one of Ceretith's calling cards. He'll say it with flair with a little twist to hide it's cruel edge, but the words will always have a cutting, brutal edge. Unless he is fond of them. To the lady dragons he actually likes he will hide this nastier streak, showing them a side of pure gentility, but woe betide them if he is scorned. Male dragons too may warrant his friendship and therefore a reprieve from his harsher mannerisms but the smallest sign of 'betrayal' could warrant a vicious retaliation.
Because any perceived slight will be met with Ceretith's form of vindictive justice.
However all of this doesn't mean he's without his good qualities. He's a swift flier, and very clever. He'll always be one of the dragons to pick up formations and movements first. He's also very charming, even if times there may be a sly insult or double headed barb hidden somewhere in his conversation. He has that soothing air, the poise, the elegance of gesture and movement like a gentleman. But you can be sure that Ceretith knows everything that's going on…and has some machination in progress.
Crafter
Craft: Harper
Rank: Sr. Apprentice